Bibliophile pre-publication of the first chapter from Jeroen Olyslaegers' novel Wildevrouw (2020, published by De Bezige Bij) in an early version, featuring artwork by Alexandra Crouwers.
This one-time publication was released on December 15, 2019, on the occasion of Alexandra Crouwers' exhibition The Three Motions of Loom at the Antwerp Art Pavilion.

For the edition Gij, Wildeman, the artist created a fourth woven work executed in double-sided weaving technique, which is depicted on both sides here.
The edition is encased in an oakwood box with a sliding glass lid. Jeroen Olyslaegers' text is partially applied to the glass and wood through screen printing, forming a cohesive unit with the woven artwork.
The edition consists of 35 numbered and signed copies, of which 25 are intended for trade.
Regular price
$540.00 USD
Regular price
Sale price
$540.00 USD
Unit price
per
Sale
Sold out
Share
View full details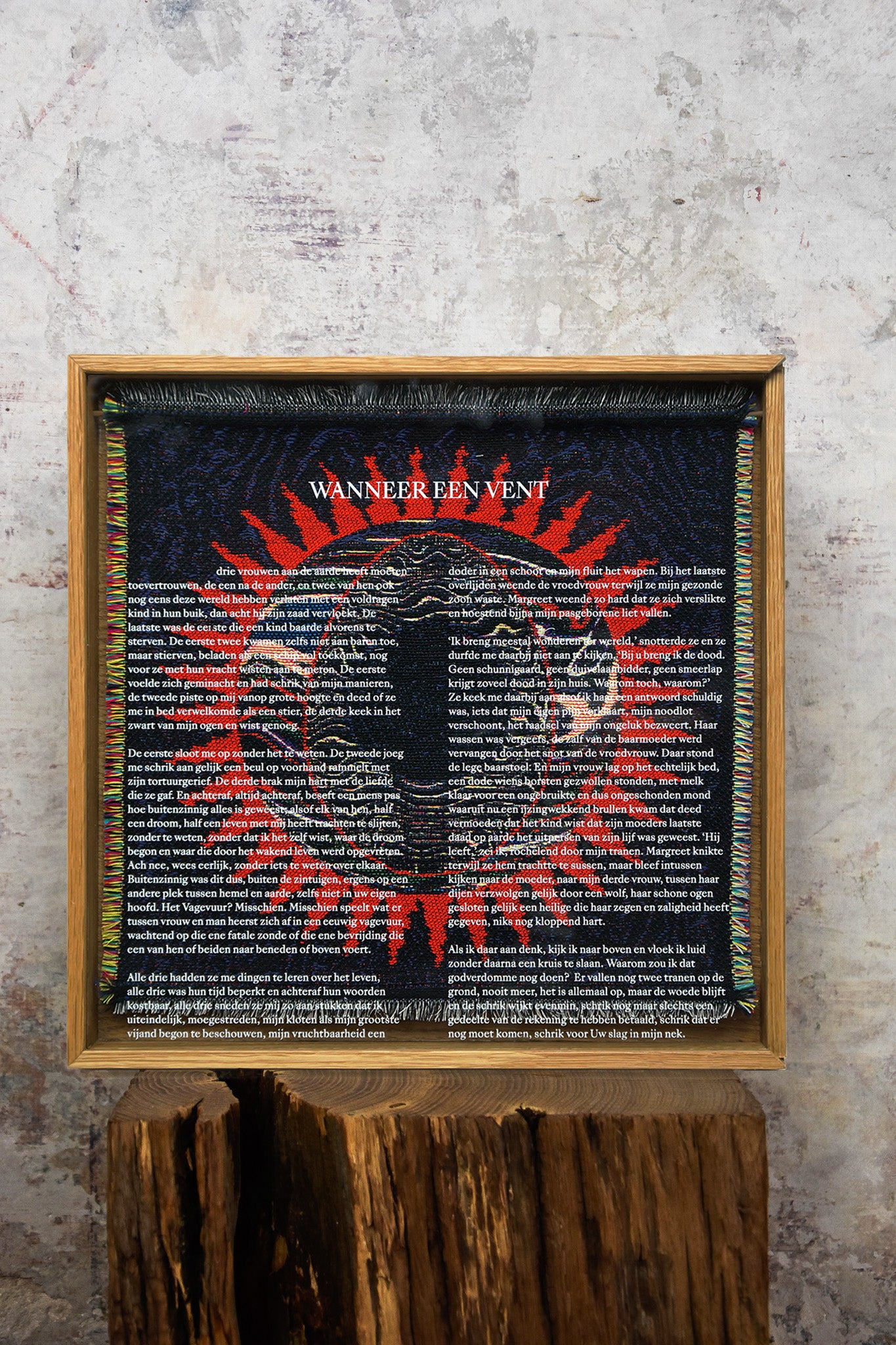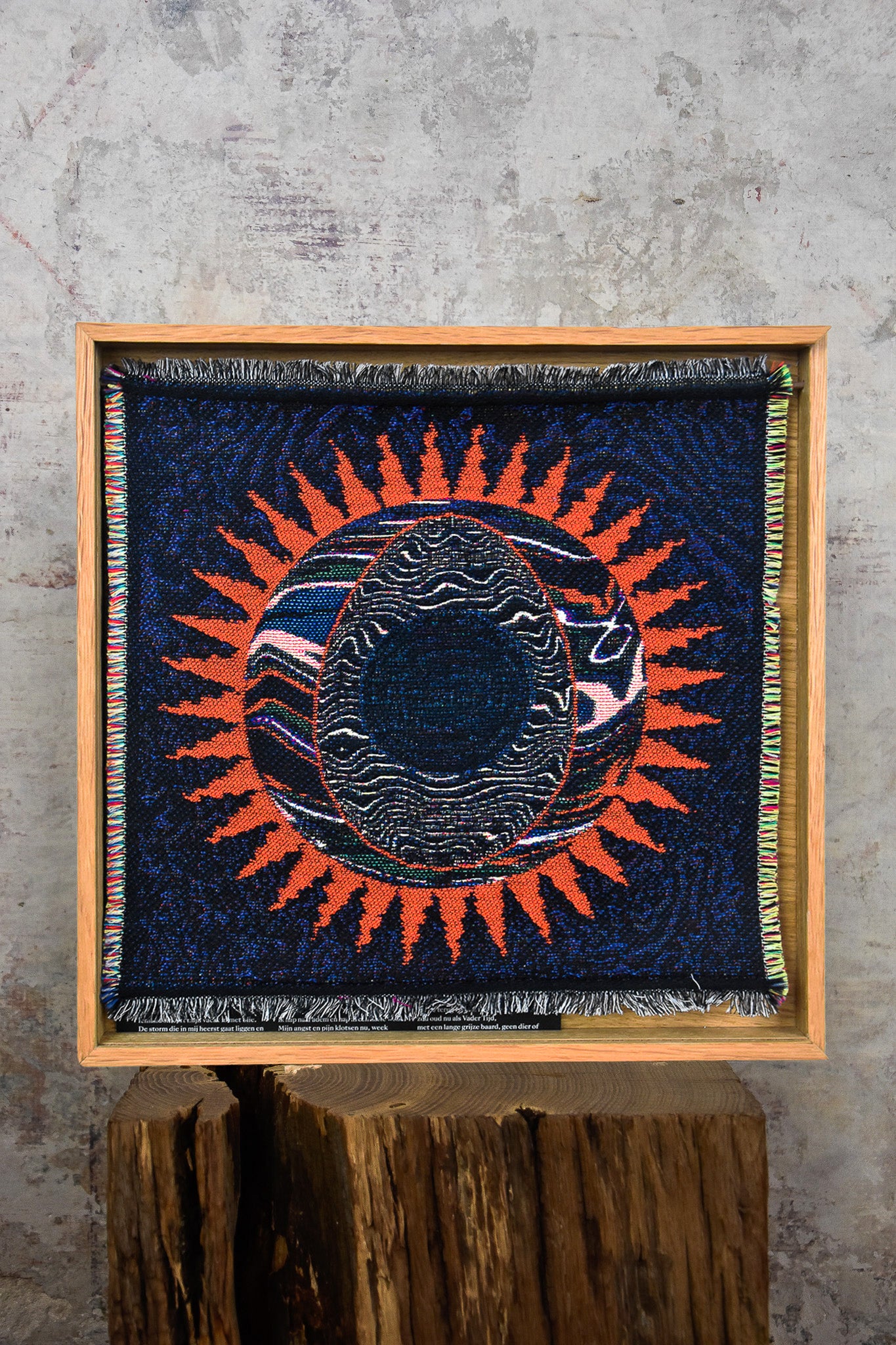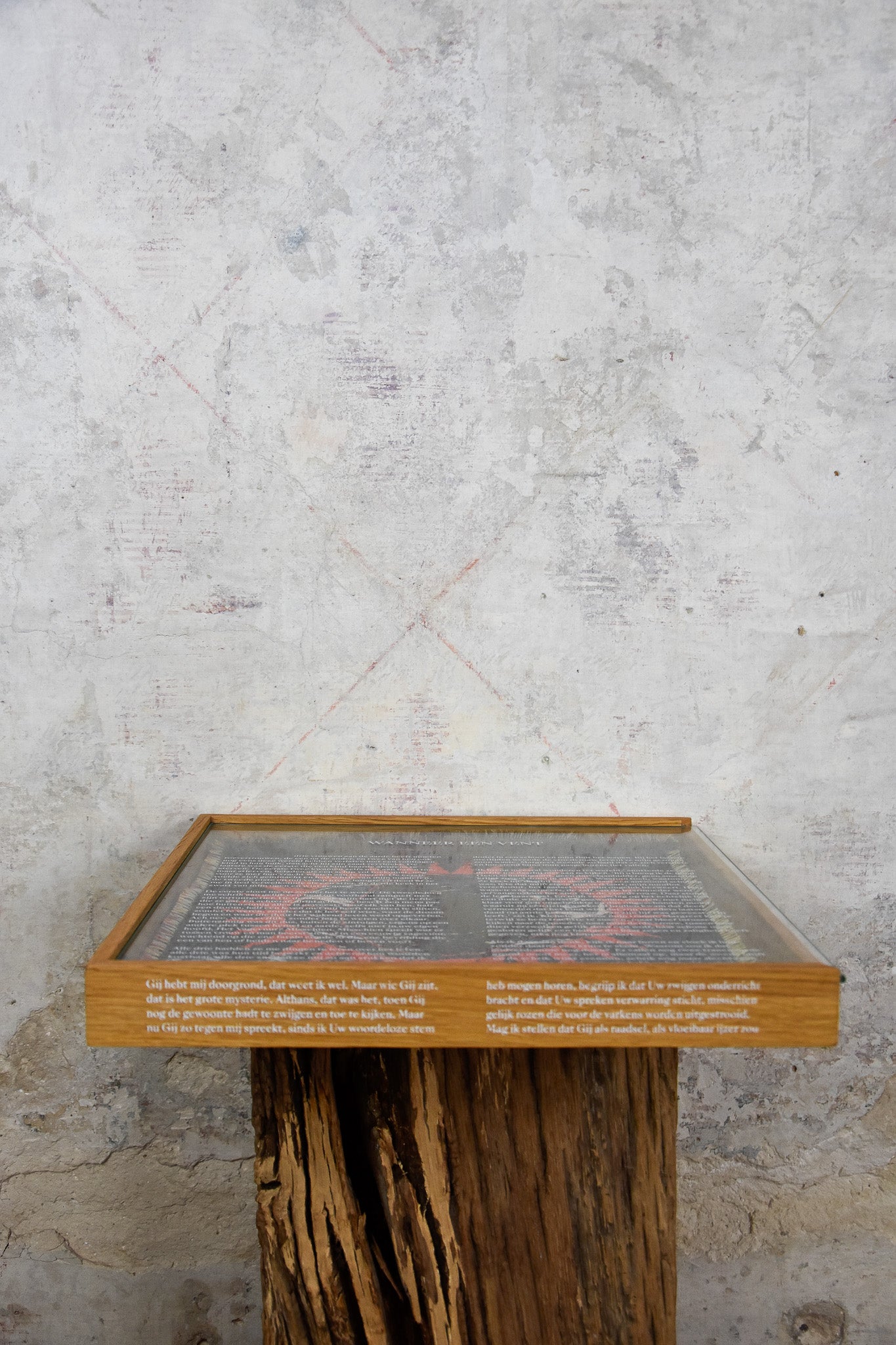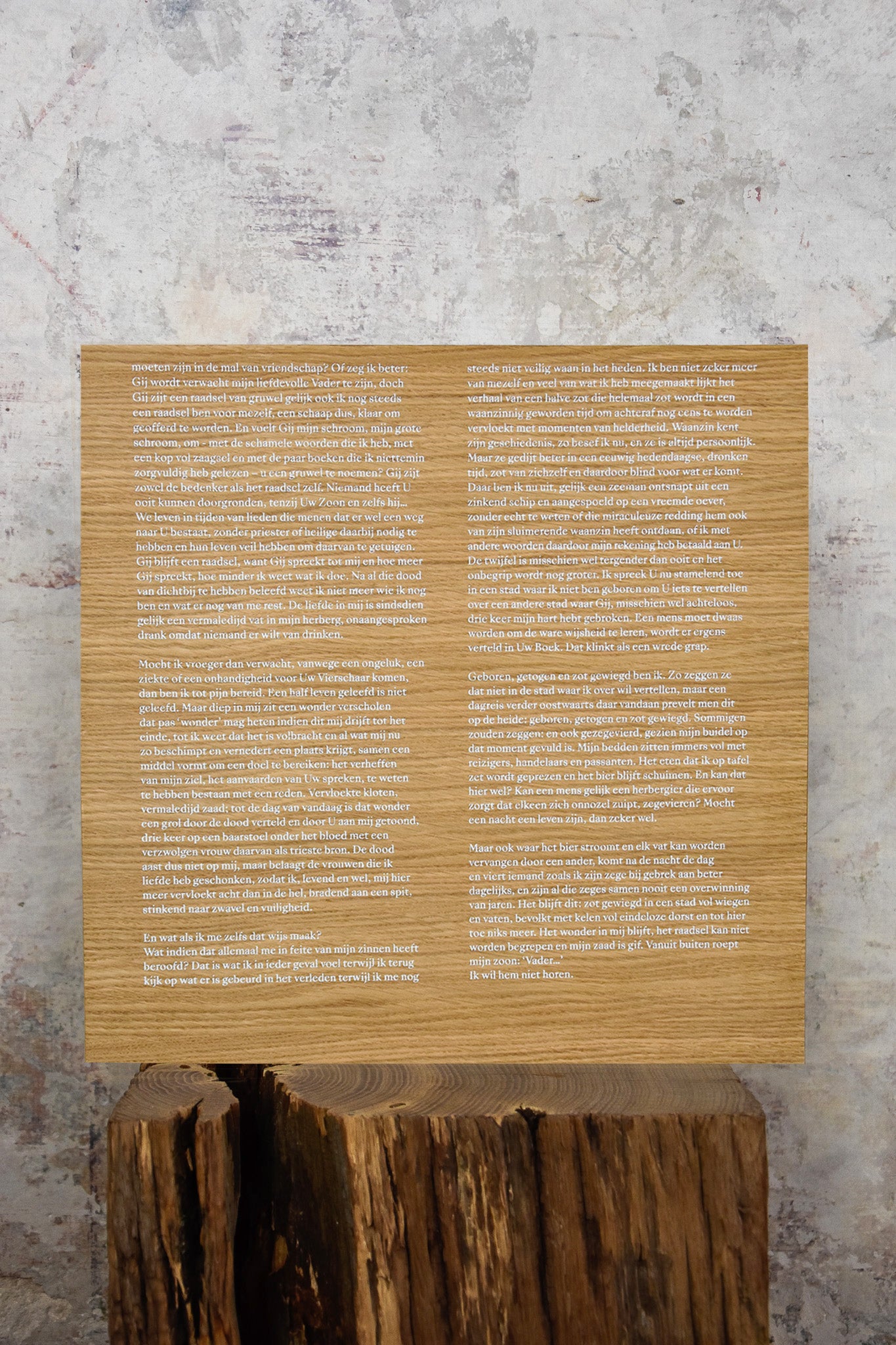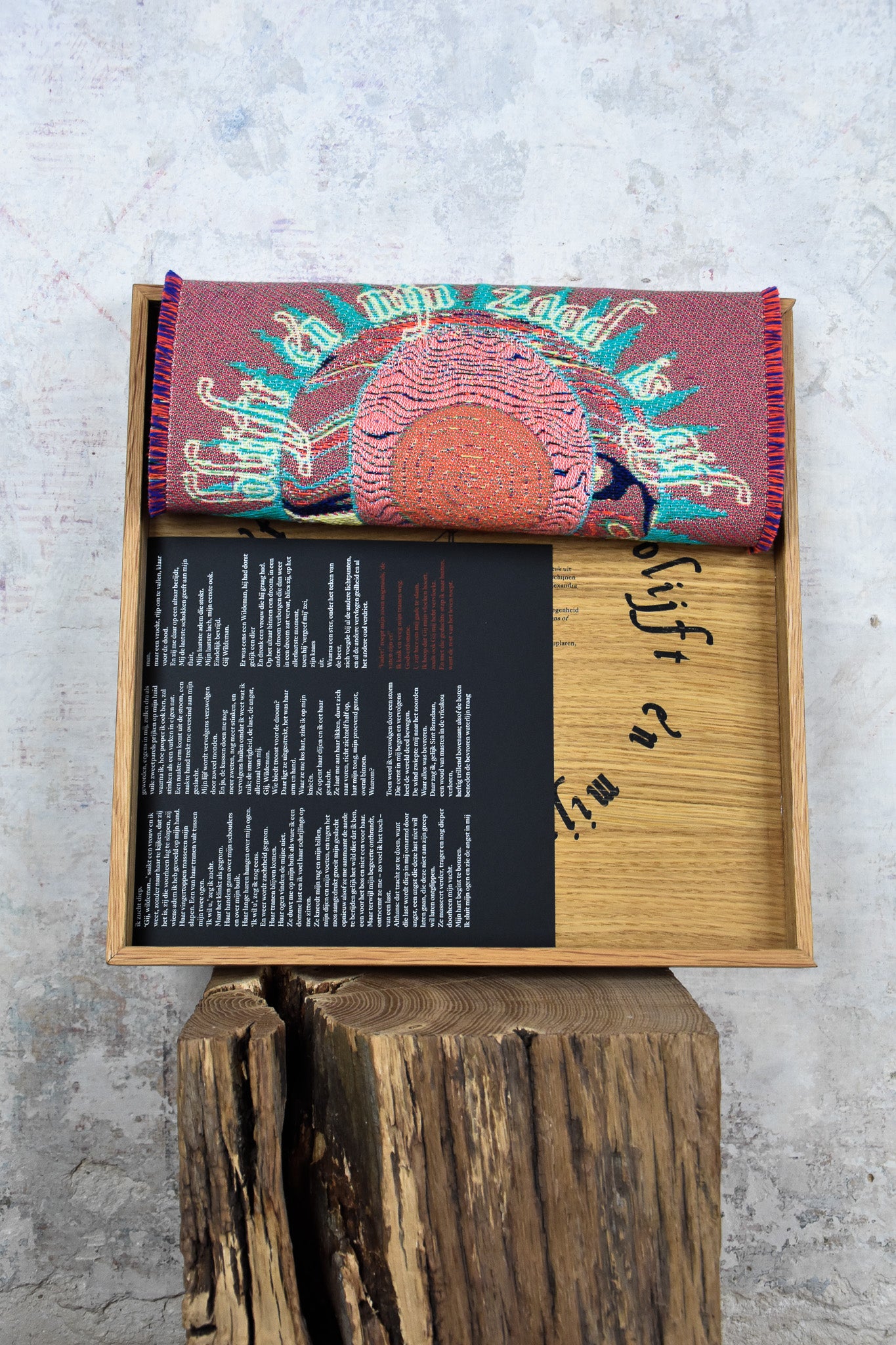 Elk item is een uiting van uniek vakmanschap.
Demian
About the brand

DEMAIN was established by two young professionals deeply involved in the
Belgian art scene, having gained experience in both galleries and museums. Florence Derck, recognized as one of Belgium's 40 under 40, previously served as the director of Gladstone Gallery Brussels, while Diane van Impe founded the WE Club within WIELS. Their aim is to provide a platform for Belgian artists
who have not yet had the opportunity to work with galleries.
About their mission

They want to bring change in the art world, which is often perceived as complex, opaque, non-eco-friendly, and elitist. DEMAIN seeks to challenge these notions and decided to curate and showcase talented artists who reside and create within Belgium. Their focus is on highlighting the vibrancy of the local art scene while also serving as a discovery platform for emerging artists. DEMAIN operates in the crucial pre-gallery phase of an artist's career. During this period, they strive to make a genuine impact by offering visibility within their network and providing financial support through the sale of artworks on their platform. Their goal is to empower artists during this pivotal stage and help facilitate their artistic journey.